Sorina Matei uita de unde a plecat
     Matei. Sorina Matei. The ultimate pupincuristan basistan. The voice of doom. 'Mneaei a uitat de unde a plecat. Saraca, de la atat pupat in fund mai uiti una alta. Acum e iar mare matroneasa de tocsoaie labe1. Poa' sa urle acolo pana sta ceasu'. Desi nu prea urla, ca n-are la cine. Cand ai aproape numai lingai basisti invitati, la cine sa mai urli? In cine sa mai arunci cu laturi in direct? Pe cine sa ma intrerupi si sa jignesti ca la RTV? 
     Putin ofticat de jurnalimbistii si jurnalipsele care se calcau pe bataturi sa-i ia un interviu acum cateva zile, Dan Voiculescu a incercat sa-i calmeze spunandu-le ca nu e frumos, ca ii considera ca si pe copii lui din moment ce are un trust de presa.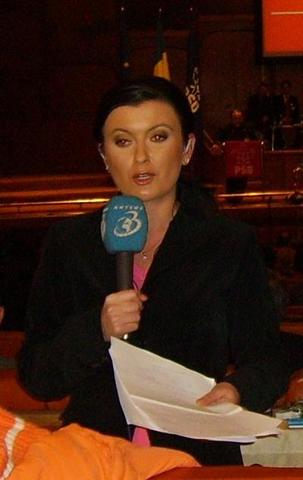 Ei bine, Soneria Matei s-a sucarit rau da tot pe treaba asta si ieri labe1 spunea ca nu intelege la ce se refera Voiculescu. Poate la aia de la antene, ca daca ai un trust de presa nu inseamna ca toti jurnalistii sunt copii tai. 
     Da pe cat de mari aveti decibelii pe atat de mica aveti memoria doamna Soneria Matei. Ati uitat saraca de dvs cand lucrati fix la Antena3. Erati una din urlatoarele de pe teren care erau nevoite sa aiba tignal sa se auda de prin vacarmul strazii. 
     Cand Basescu nu si-a vazut sacii in car si nu i s-au acceptat termenii unui interviu cu Sorina Matei la Antena3, aceasta a plecat sucarita si ofticata ca nu l-a putut pupa in fund bini di tat. Labe1 a plecat, de unde s-a dus la RTV la salar mai mare, unde nu o mai suportau invitatii. Asa ca acum ceva luni s-a intors spasita in cuibul de viespii de unde poate sa arunce cu basisme nestingherita.
     E de mare porc sa uiti de unde ai plecat. Sa vedem ce-o sa faca Sorina Matei daca doamne fereste labe1 ramane si fara firfireii dati acum de adeptii lui Basescu. Ca la antene nu mai pupa, tare mi-e ca nici la rtv, poate doar pe la irealitatea sa mai aiba vreo sansa.