Ok so let's talk #eurovision again. (This is a bit of a long post because proper info can't be given in two sentences so bare with it) The Romanian national selection's results set a lot of the public on fire and threw the two foreign judges from #wiwibloggs, William Lee Adams and Deban Aderemi , in a strong ring of accusations. This is the first time the organizers tried to be cool by turning the selection's final in a really great show with a lot of foreign jury members, 4 to be exact plus a musician from Moldova and a romanian member. The 7th jury "member" was the public televoting.
     The past years we've had either a 50/50 jury/public vote, even one year the public alone got to chose in the grand final and there was never a dull moment, the results have always been questioned and fowl play suspected.
     At the end of the grand final Ester Peony was chosen to represent Romania. 4 jury members gave her 12p, while the other two and the public gave Bretan the 12p. Well that's something isn't it? It was a close cut. So why put the whole blame on the guys from wiwibloggs?
     Well the blast started with an online comment that was congratulating William and Aderemi for succesfully rulling out Bretan because she was apparently a homophobe. But let's rewind a few weeks back. At the time the first 23 songs were announced, William and Aderemi published a "reaction video" on youtube, with first impressions on the songs. That batch of songs did not include Bella Santiago. Their reaction to Bretan's vocals especially was a really high praise saying she is definitely a winner in their opinion. When they listened to Ester's song however, William very quickly turned it off saying it's not bad just boring.
     At one point, apparently William and Aderemi found out about the video Bretan made a while back to advocate the campaign for a national referendum about "God given natural family values". It was obviously a homophobic campaign that was trying to change the constitution to clearly say a marriage is between a man and woman, not "spouses" like it is now. Of course we cannot say Laura is a homophobe because there's no proof of that, however there is clear proof the Familly Coalition that started this process are homophobes and while these videos aired on tv could not be discriminatory, there were a ton of homophobic fliers posted in the entire country.
     So let's say William and Aderemi did this on purpose. No proof, obviously but there are strong hints. Their reply on the result was basically very simple - they still think Laura's voice is amazing but the performance and staging was not doing anything, Bella's song and performance was really good but they just thought Ester's live performance and acting was just very interesting.
     Well that can be accepted because Ester's staging and the live vocals were really different. On the other hand if there was such a huge conspiracy why not just give their 12p to Bella Santiago, they gave her 10p anyway.
     Even IF they had something against Bretan, there had to be something real about their choice because otherwise it does NOT make sense. PLUS let's remind the public that the romanian jury member and the Israelian one ALSO gave 12p to Ester and only 7 to Bretan. So? They were all in it? I can hardly believe that.
     Let's also analyze the fact Troopers' song came second place in the televoting. You really should listen to it and tell me how does a boring anthemic deprecated opera song comes one step ahead of Bella Santiago's song AND fanbase. Because she's just won XFactor last year.
     Do some contestants vote themselves like crazy? YES Do people vote less and less each year? Most likely! Allowing each number to vote up to 20 times is sure to favor the wealthy voters or contestants? YES. Troopers fairly ending on second place after Laura? I call bullshit. 
So far in the competition, Ester's song is the ONLY modern, radio/charts quality song. I wish her best of luck and we're also waiting for her first album this year. 

#eurovision #eurovision2019 #esterpeony #selectianationalaeurovision #scandaleurovision2019
     Ma asteptam la niste rezultate absolut demente, am nimerit doar 5 tari din 10, insa nu mi-am inchipuit niciodata ca Romania va pierde semifinala in fata unor maimute care au urlat "fuck yea" de nu stiu cate ori ca niste saltimbanci din Olanda, in fata urlaturilor horror ale ungurilor sau in fata unei toparlaneli destul de depasite a Moldovei. Am privit un pic conferinta de presa si am ramas surprins sa vad ca moldovenii au langa ei pe organizatorul rus care a mai fost prezent in alti ani cu concurenti din Rusia. Nu doresc sa comentez mai mult decat ca cine isi face inca iluzii ca moldovenii vor unirea cu Romania, ar trebui sa se trateze. 
     Mai mult sunt dezamagit comparand ce a trecut cu ce nu, decat la o adica, de faptul ca Romania n-a trecut sau ca alte tari n-au trecut. 
 Alex      - Suedia, Australia, Norvegia, Romania, Moldova, Letonia, Rusia,  Muntenegru, Ukraina, Polonia - 5 din 10
Romeo -  Suedia, Australia, Norvegia, Romania, Moldova, Ungaria, Serbia, Danemarca, Ukraina, Polonia - 8 din 10
Official - Suedia, Australia, Norvegia, Moldova, Ungaria, Serbia, Danemarca, Slovenia, Olanda, Ukraina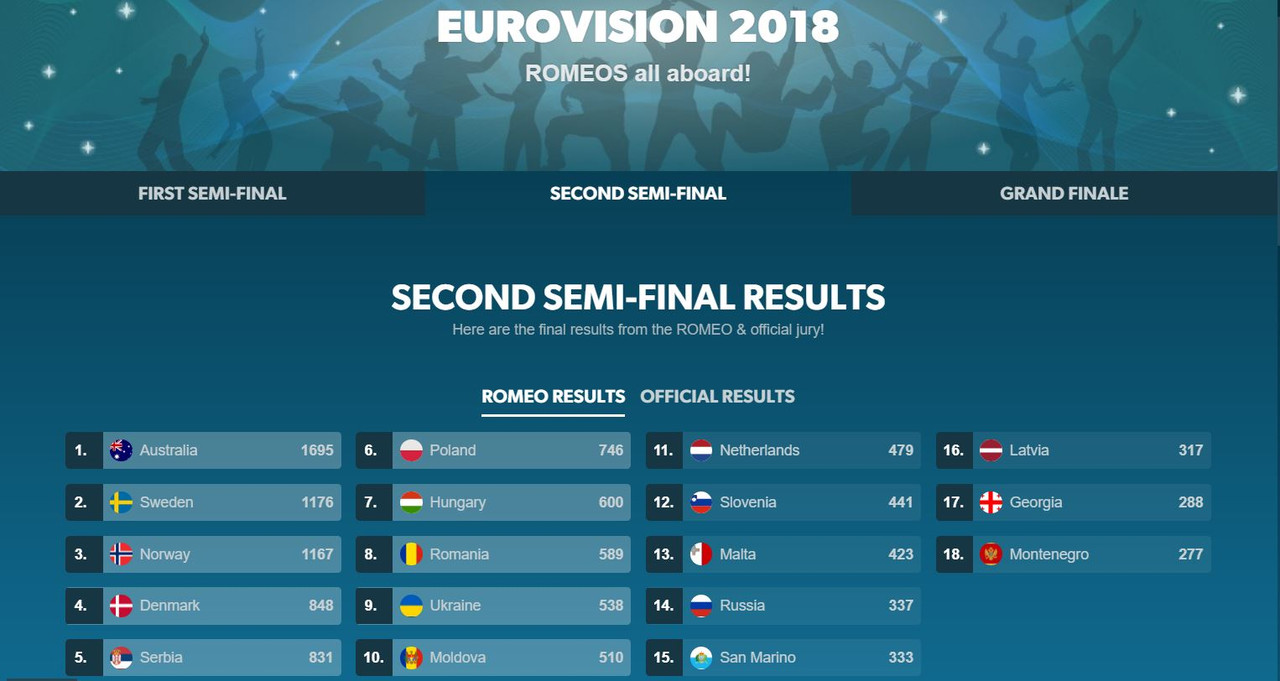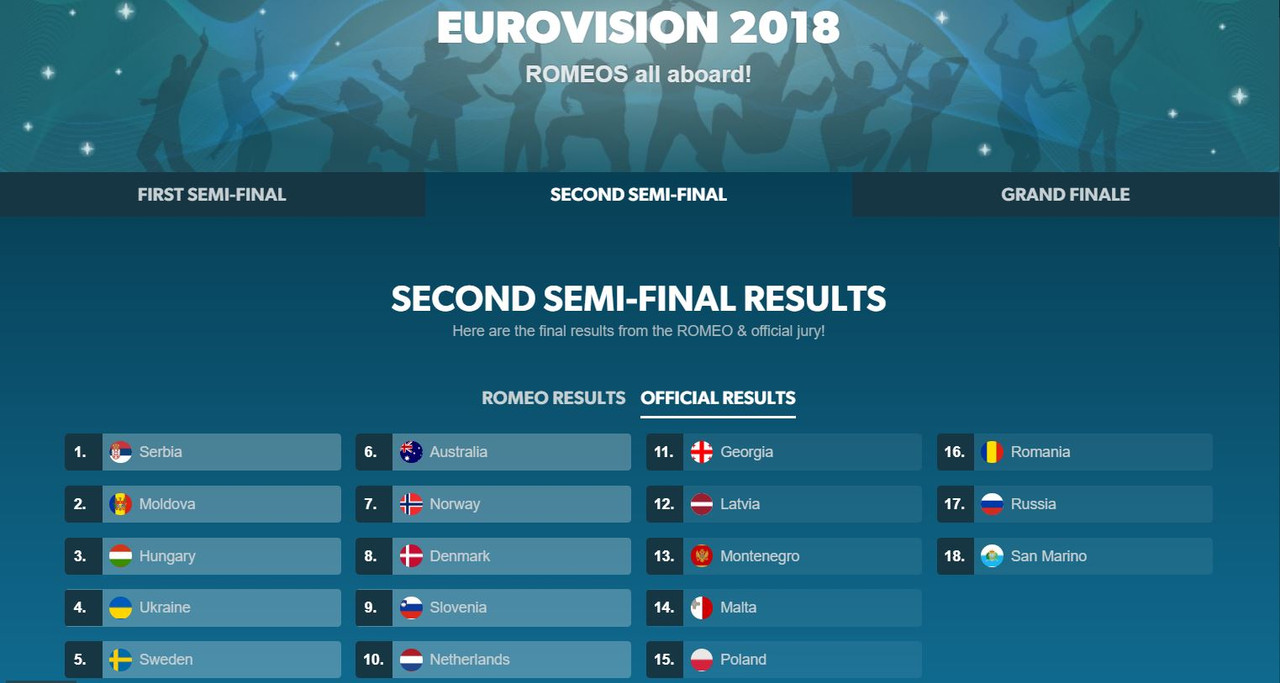 In aceasta seara are loc a doua semifinala a Eurovisionului din acest an, fara sa exagerez, una dintre cele mai slabe semifinale din ultimii 6 ani. Spun asta nu doar pentru ca, printr-un joc al sortii aproape toate melodiile cele mai bune s-au cantonat in prima semifinala, dar si strict analizand fiecare melodie in parte. Maxim 4 melodii din cele 18 din seara asta sunt relativ demne de Eurovision. 
     In primul rand consider ca e prima oara cand un fost castigator al Eurovision se intoarce in concurs cu o melodie jenanta. I-as transmite lui Rybak - This is how NOT to write a song, dar imi dau seama ca il doare fix in cot si in plus e cotat destul de sus de cei care voteaza parca doar pentru a demonstra ca sunt plictisiti oarecum de multe ori de calitate in favoarea unor "interesantenii" 
     Nu am vazut mare lucru din punerea in scena a Romaniei, inteleg ca au o groaza de manechine pe acolo, insa imi place piesa, vad ca pe Romeo este cotata in primele zece. Sunt convins 100% ca, daca ar fi concurat in prima semifinala nu s-ar fi calificat. Nu vreau sa acuz de aranjamente fiindca stiam ca se trage efectiv la sorti, dar aceste doua semifinale chiar au iesit extrem de prost balansate. 
     Avand in vedere comparativ si mai putin calitativ piesele din aceasta semifinala, mizez pe Suedia, Australia, Norvegia, Romania, Moldova, Letonia, Rusia,  Muntenegru, Ukraina, Polonia
     Chiar inainte de melodia Australiei, Benjamin Ingrosso face din punctul meu de vedere poate la fel de mare senzatie cu Dance you off ca Cehia cu Lie to me. Cele singure 4 care cred ca merita realmente sa fie finaliste sunt Suedia, Australia, Romania si Rusia.